STILL NOT AN ESPRIT FRIENDS MEMBER?

But if you'd like to be one, there are two ways to join:
1: INSTORE Simply shop at one of the participating Esprit Stores and ask to join Esprit Friends at the checkout before you make your purchase.
2: ONLINE Once you have any items in your basket, you can become an Esprit Friend. Simply choose 'Join Esprit Friends', enter your details and complete your checkout. Your new Esprit Friends digital card will be sent to you via edm or sms during the order process.

FRIENDS CARD
SHOPPING IS FUN!
Especially when you can get 10% bonus for every RM 1 spent! Just use your Esprit Friends Card at one of our stores including the Online store and you will receive your bonus added to your account in the form of valuable bonus points. Collect over 600 bonus points & and you'll start receiving vouchers from us. For example if your purchase is RM 600, you will receive 600 bonus points credited to your Esprit Friends account. For 1000 points, you will receive a RM 60 voucher from us - it's that easy.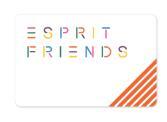 VOUCHERS
As soon as you reach the threshold of 600 bonus points, we'll automatically send you a voucher to the value of your current bonus points balance. Simply redeem the voucher within the next 12 months at any Esprit Store including the Online store.
MY ESPRIT
Here you'll find information and services on all aspects of My Esprit, the points you've earned and an overview of your Esprit Friends account showing all purchases of the last 12 months in our exclusive members' area. All you need to do is log in with your Esprit Friends number and your password. When you log in online at My Esprit for the first time, your password is equivalent to your last 5 digits of your mobile number. Sounds too easy? You can, of course, change your personal details and your password at any time at My Esprit.
CONTACT
We're there for you at any time should you have any questions or problems with your Esprit Friends Card. Should you need information on your Esprit Friends membership, your e-points or the Esprit newsletter, please simply contact the Esprit Friends customer service.
GOLD CARD
Your membership will automatically be upgraded to Gold upon 1200 epoints or more within 12 months.You will receive the digital card number via edm or sms so you can enjoy your rewards instantly.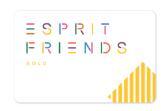 And apart from a Welcome Coupon of RM 45 on any full-priced purchase for a limited time (not in conjunction with any other offer), you can enjoy a lot of other additional benefits:
GOLD BENEFITS
10% discount on full-priced items
20% birthday discount
VIP shopping days
Receive style e-newsletters & event invitations
PLATINUM CARD
Your membership will automatically be upgraded to Platinum upon 2000 epoints or more within 12 months. You will receive the digital card number via edm or sms, so you can enjoy your rewards instantly.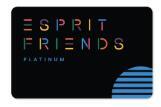 And apart from a Welcome Coupon of RM 60 on any full-priced purchase for a limited time (not in conjunction with any other offer), you can enjoy a lot of other additional benefits:
PLATINUM BENEFITS
10% discount on full-priced items
20% birthday discount
VIP shopping days
Receive style e-newsletters & event invitations
Free shipping in the e-shop
Free alteration in retail stores
A birthday surprise gift*
Personal styling*
*At selected stores only
Win a seasonal head to toe new look
Exclusive invitation & benefits